Fruits and Vegetables – Week 5, 6, 7
This is a great theme to do in the fall when many families harvest foods from gardens and grocery stores have lots of local produce for sale. Learning about fruits and vegetables can help promote healthy eating habits as well!
More about activities from this theme you can find on BLOG PAGE
Introduction to the theme
We started with real fruits and vegetables. we learnt their names. Children had chance to touch, smell and distinguish the difference between skins, size etc. Later on we added pictures, puzzles and cards.
Practical life
Washing vegetables and fruits.
Spooning.
Cutting banana
Tweezing
Maths
Counting fruits and vegetables 1-5
Science
Matching fruits and vegetables with pictures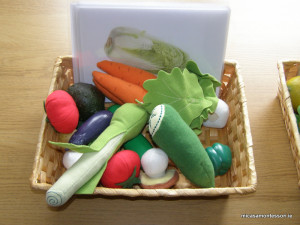 Half-fruit and Full-fruit matching and naming
Sorting (separating fruits from vegetables)
Insets